As a countdown to the upcoming 50th Anniversary of Doctor
Who, TARDIStyle will be showcasing one Doctor a day.
William Hartnell
was born 8 January 1908 in St. Pancras, London. He was the only child of his unmarried mother, Lucy. The Hartnell family owned a farm, where he enjoyed riding horses. William spent holidays there but lives mostly with a foster mother. Although Hartnell tried to find his father, he was never able to. After school, he had little prospects and experimented with crime. He joined a boy's boxing club, where he met Hugh Blaker. Blaker would later become his mentor and unofficial guardian through training Hartnell as a jockey. After that, Blaker arranged for Hartnell to study theatre (a passion of Blaker's) at the Imperial Service College. William found the environment to be to confining and ran away from the school, although he would later end up living next to Blaker until the 1960s.
In 1925, William was hired as stagehand by Frank Benson. The job opened his gateway to the stage. In the next year, Hartnell performed in multiple Shakespearian plays, including
As You Like It, Hamlet, The Merchant of Venice, Julius Caesar, The Tempest,
and
Macbeth.
It was through the play
Miss Elizabeth's Prisoner
in 1928 that Hartnell met his wife, Heather McIntyre. The couple would have one daughter together. Hartnell made his first of over sixty film appearances in 1932 in
Say It With Music.
Hartnell served in the Tank Corps in WWII for eighteen months before being invalided out after a nervous breakdown. He then returned to acting, playing comedic characters for a while, until 1944 he was cast as Sergeant Ned Fletcher in
The Way Ahead
. His portrayal of the character started a pattern of typecasting as the no-nonsense-tough-guy, playing policemen, soldiers, and thugs.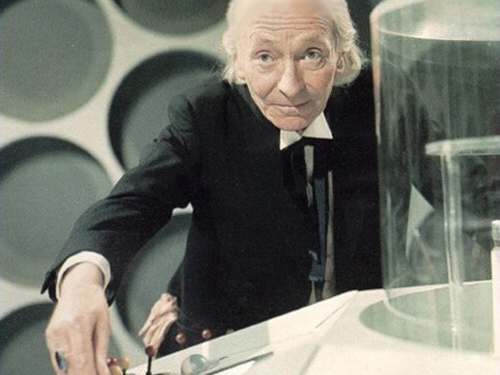 As we all know, Hartnell accepted the offer from Verity Newman to play the Doctor in 1963. He revealed after his tenure that he took the role to get out of the typecasting. Interestingly enough that is the exact reason many actors left the role of the Doctor. Although his Doctor is now remembered as being one of the least emotional, gruffest Doctors. No matter our opinion of the First Doctor, we owe so much to William Hartnell as fans. Without doubt,
Doctor Who
would be very different had he not been the first man for the job.
Hartnell died in 1975 of heart failure after several years of illness. He was 67.
Like What You See?
Join Us On: